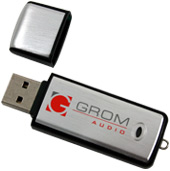 Everyone appreciates having more than one option when making a decision; especially when it comes to musical enjoyment.
Although most people store their music digitally with an iPod, it is not the only way.

USB ports
are showing up on more than just computers now days; and one of these places is in vehicles.An additional option being explored for portable media used with USB ports are flash drives; also known as "thumb" drives.
USB Flash Drive Benefits:

When comparing this item to an iPod, the benefits are clear and without question.

Size: The small and convenient size can be equivalent to a key chain; which makes for easy storage in your pocket, purse or simply on your keys.

NO skipping: This item does not skip either; which is something iPod cannot claim.

NO battery: The iPod also has the ability to run out of battery, in which then a thumb drive could be used as a backup. The thumb drive cannot run out of battery.
Price: Another advantage of the flash drive is its affordable price. A 4 GB flash drive costs approximately ten dollars. Such deal allows customers to misplace, lose or break their flash drive without the stresses of having to replace it. In addition to all the convenience the flash drive will bring the customer, there are also stylish options that enable the buyer to customize it to their own personalities; such as flowers, cars or even peace signs. There is no need to go out and spend more money on a cover to make your flash drive look unique.
Portable Hard Drive Benefits:

The portable hard drive is another option to store and play your music with a USB port in a vehicle. It is similar in size to an iPod, generally a bit smaller, but can store much more music.

Storage Capacity: The storage capacity would allow you to upload enough music to listen to on a trip from California to New Jersey and back. Portable hard drives can also be found anywhere from eBay to Best Buy, and the price is very attractive. A 250 GB portable hard drive runs around thirty six dollars. Similar to the flash drive, this item does not skip either.
At Grom Audio we offer a USB MP3 car kit. With this kit, you can plug in a flash or hard drive and control everything via the factory car stereo. There is no need for a new car stereo in order for our unit to be compatible to your current one. All the music stored on your USB device is easily transferred right into your vehicle's stereo. If you enjoy options, the kit has two other ports for iPod or auxiliary devices.
For further information on our USB MP3 car kit and other products available for music enjoyment in your vehicle, visit our website at www.gromaudio.com.